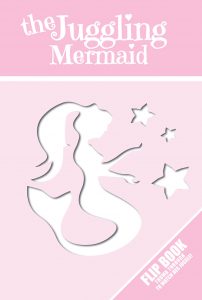 The Juggling Mermaid is more than just a blank journal, notebook, sketchbook or diary. Our blue-and-turquoise juggling mermaid journal also comes with a secret surprise. Our mermaid juggles! That's right, just flip through the pages to see the juggling mermaid in action. The page flip animation brings her to life. Can your little mermaid juggle stars? Ours can!
Left-hand pages have a dot-grid pattern great for sketching her mermaid adventures
Right-hand pages include blank lines for use as a journal, notebook or diary
Page-flip animation featuring The Juggling Mermaid is found on the lower right-corner of each right-hand page.
The 200-page book alternates between spreads of a very light dotted grid pattern (perfect for drawing, sketching, playing games with a friend) and spreads that have blank pages on the left and blank lines on the right. In addition, the lined journal pages include a small, beautiful mermaid silhouette in the bottom-right corner to help keep the creativity flowing. The Juggling Mermaid makes a great gift for the young woman in your life whose mind is filled with adventure. It also makes a fantastic party favor for your mermaid-themed birthday party.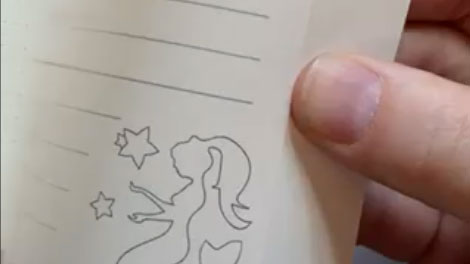 $8.97. Available from Amazon: https://www.amazon.com/dp/1798150646